The South Wales coalfield extended from Pembrokeshire and Carmarthenshire to the West, and Monmouthshire to the East, with the richest deposits in the South Wales valleys. The Glamorgan Archive site (12) has a number of maps showing the distribution of coal types and collieries.
The Rhondda Valley was particularly known for steam coals which fueled steamships of the 19th and early 20th centuries. With the increase of oil-fired ships, the need for these coals diminished. At its peak, there were reportedly 53 coal mines in the Rhondda.
Coal mine sites in the Afan valley included:
Glyncorrwg North and South, sunk in the early 20th century and closed in 1970.
Dyffryn
Cynon
Argoed
Glyncymmer
Collieries with deep mines were easily spotted by the large winding wheels that raised and lowered the cage to/from the coal face.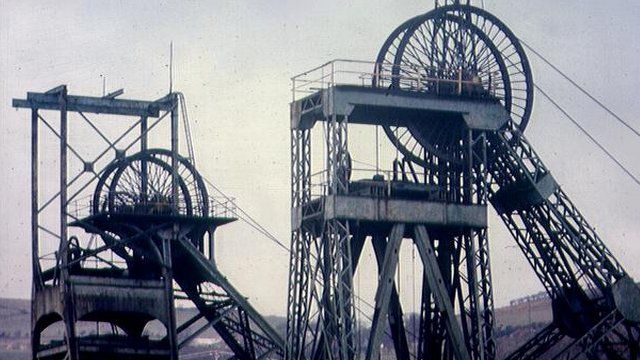 Wikipedia reports that Ordnance Survey maps from the last century show that Bryn was honeycombed with coal resources. Some of these resources were in the form of outcrops which could be hand picked from the surface. Coal mining operations came to to Bryn soon after 1841, at the time the kind of coal required for copper smelting was becoming more scarce in the Afan valley.
Health issues of coal dust, especially pneumoconiosis (aka black lung disease).
The South Wales Miners Museum is well worth a visit, and can be found on the A4107 mountainside road between Pontrhydyfen and Cymmer.
Miner's lamp
Invented in 1815, the miner's lamp, known as the Davy lamp after its inventor Sir Humphry Davy, provided a safe way to light coal mines without causing combustion of highly inflamable/combustible gasses. The pictures below are of my father's lamp when he worked as a fireman in the mines. Lamps were individually numbered and assigned to specific employees, allowing a quick check in the lamp room of who had not returned from the coalface.
In one humorous story I heard multiple times as a lad, one lamp would frequently be missing from the lamp room, although the employee was known to have returned to the surface at the end of his shift. Workmates took that as a sign that the employee had gone fishing. He'd insert the lit lamp into the river in the dark of night, and this would attract fish. A brief tickle under the belly, and the unsuspecting fish was whisked out of the water.